We are absolute specialists in 5-axis-milling of gears. As the technology leader in this sector, we continually improve our know-how, creating innovative solutions for our customers. Read more ….
Major benefits at a glance:
maximum degrees of freedom in design of gearing:

double helical and herringbone gearing, asymmetric tooth forms, etc.
interfering contours are no longer a problem
hardly any restrictions in contact pattern modification
any desired special materials
production on universal milling machines with standard tools
soft and hard machining (to 62 HRC) on one machine
high level of flexibility and very short lead times
Services we provide:
We will of course gear your components according to your specifications – however, we also offer complete production incl. materials, turning and milling as well as case-hardening or alternatively nitrifying. We produce from module 5 to large module gears up to a maximum tip diameter of 2000 mm (larger diameters upon request).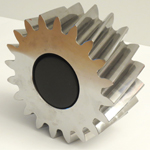 spur wheels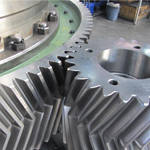 special gearings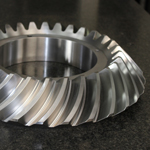 bevel gears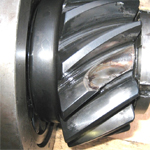 repairs